Web3, sometimes styled Web 3.0, is a new internet model built on blockchain that has garnered significant attention in the past few years.
Web3 is still a work in progress, but the core concepts behind Web3 are decentralization, transparency and ownership — many of the same principles that underpin cryptocurrency.
Why and what you should learn about Web 3.0
Proponents of Web3 expect the technology to distribute power away from internet gatekeepers, giving developers and users more control over their data.
Web3 combines many blockchain-adjacent evolving technologies, including digital avatars, non-fungible tokens (NFTs), decentralized finance (DeFi) and decentralized applications (dApps). As with any influx of new technology, there's a need for new skills and talent. The Web3 community is growing all the time and developing accessible learning content for developers of all levels.
There are many websites that offer Web3 courses. Here are some sites to consider.
Best Web3 courses in 2023
1. Web3 University
Web3 University offers a variety of lesson tracks that include tutorials on various topic areas of Web3 development. Track topics include NFT building and smart contract creation, and courses on blockchain-centric programming languages such as Solidity and Solana. The free tutorials are a mix of videos and articles. The lesson track Create Your First Smart Contract is a good starting point for aspiring Web3 developers and enterprises looking to break into the Web3 space. Web3 University's content is free to access.
Website: https://www.web3.university
2. ChainShot
ChainShot offers a 10-week, instructor-led Web3 developer boot camp that promises to give attendees the skills needed to build a proof-of-work blockchain, develop smart contracts in Solidity and build decentralized applications. The boot camp uses a mix of classes, games and articles in its learning model, where students spend the first portion of each lesson learning from an instructor and then break out to apply what they've learned.
It is recommended that all students are proficient in JavaScript so that they are able to build the front end of dApps and communicate with the Ethereum blockchain. The curriculum is always evolving, and initial access to the platform is free.
Website: https://www.chainshot.com/bootcamp
3. Udemy
Udemy is an e-learning platform offering video courses on a variety of topics. Users can log on to Udemy and search for the topic they want to learn about. Udemy has several blockchain courses available on its EdTech platform. Some highlights include the following:
Blockchain for Business: The New Industrial Revolution
Build a Blockchain and a Cryptocurrency From Scratch
Ethereum Blockchain Developer Bootcamp With Solidity
Complete DApp — Solidity & React — Blockchain Development
Blockchain and Bitcoin Fundamentals
Prices for these courses vary.
Website: https://www.udemy.com/topic/blockchain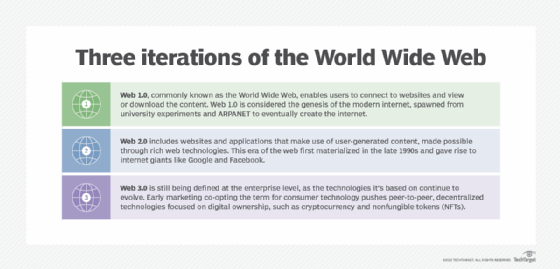 Proponents of Web3 argue it's the next natural progression of the internet.
4. Zero to Mastery
Zero to Mastery (ZTM) has a five-hour-long Web3 Masterclass that teaches blockchain basics including immutability and disreputability, potential use cases for Web3 applications, cryptocurrency basics, the basics of decentralized autonomous organizations, and metaverse topics.
ZTM offers video courses on a variety of tech topics. Users can subscribe to ZTM to access the videos for $39 per month, $279 annually or a one-time $999 lifetime fee. Once subscribed, the courses are free. Subscribers also get access to a private Discord and private LinkedIn networking group.
Website: https://zerotomastery.io/courses/introduction-to-web3
5. LearnWeb3
LearnWeb3 offers free courses on four separate learning tracks — Freshman, Sophomore, Junior and Senior — as well as access to an accompanying Discord community where students can ask questions, make connections and attend exclusive events. In addition, students can link their ETH wallet — a wallet for the use of cryptocurrency on the Ethereum blockchain — to receive graduation NFTs.
Following the tracks all the way through, learners can go from setting up their developer environment and coding their first dApp to learning about Web3 security, flash loans and Ethereum's tax known as maximal extractable value. Many of the lessons link to readings on FreeCodeCamp and Codecademy.
Website: https://www.learnweb3.io
6. LinkedIn Learning
LinkedIn Learning has a Web3 content section that users can access for a fee. It offers course videos that typically last less than an hour and entire Learning Paths that last upward of nine hours. Common topics include the basics of blockchain, metaverse, Bitcoin and the interaction of blockchain and business.
Website: https://www.linkedin.com/learning/topics/web3
7. Buildspace
Buildspace is a Web3 development platform that offers free learning courses on several Web3 technologies, such as Web3 apps, NFT collections or machine learning-powered writing assistants. Users can sign up and connect their Ethereum wallet to verify coursework completion and to receive a course completion certificate in the form of an NFT. Learning modules are centered on small projects called builds, which teach students how to complete a small project.
Buildspace also encourages integration with Twitter for users to show others what they're building. It offers a way to connect learners with each other through the Nights and Weekends program, where they join each other in a six-week sprint to build and ship a new Web3 project.
Website: https://buildspace.so
8. Moralis Academy
Moralis Academy is an online university for blockchain technology and cryptocurrency. It offers beginner, intermediate and advanced courses. Beginner courses include Ethereum 101 and Blockchain & Bitcoin 101. Intermediate courses include Ethereum Smart Contract 101, and advanced courses include Ethereum dApp Programming and DeFi 201. Users must register with Moralis Academy on either a business or individual plan, starting at $22 per month when billed annually.
Website: https://academy.moralis.io
9. CryptoZombies
CryptoZombies is one of the largest blockchain development education platforms and was the first internet tutorial for NFTs. It centers on constructing a zombie-based video game. Users complete a series of in-browser, interactive coding lessons that mainly focus on Ethereum and Solidity development. After users complete the courses, they can apply what they learned to build and deploy a dApp that acts as a multiplayer online strategy game. CryptoZombies is free and open source.
Website: https://cryptozombies.io
10. Blockchain Council
The Blockchain Council offers a certification for blockchain developers, which includes developer courses that teach students about Ethereum, IPFS, Hyperledger and R3 Corda. It's a 15-hour, exam-based program that certifies an exhaustive knowledge of blockchain technologies. The course is self-paced and administered online. Exams are made up of 100 marks, and test-takers need 60 marks to pass.
Website: https://www.blockchain-council.org/certifications/certified-blockchain-developer
Other resources
In addition to the courses mentioned above, there are other resources on the internet that developers can use to learn and write code for Web3. Some free courses, such as LearnWeb3, also link to these resources.
FreeCodeCamp. FreeCodeCamp and its individual instructors have several free tutorials on YouTube, including the following:

Solidity, Blockchain and Smart Contract Course
How to Make NFT Art With On-Chain Metadata
Learn Blockchain, Solidity, and Full Stack Web3 Development with JavaScript

Games. Like CryptoZombies, Ethernaut is another course-via-game that teaches players about the technical aspects of the blockchain while they play.
Open source libraries and tools. There are many online open source tools for Web3 developers to take advantage of, including the following:

OpenZeppelin. OpenZeppelin offers an open source framework for building secure smart contracts.
Create ETH App. This is a collection of open source application templates that users can make into an application with one code command.
Hardhat. Hardhat is a professional Ethereum development environment.

Media and news. Prospective Web3 developers can follow many media outlets such as these to stay involved in crypto trends:

Coinmonks
Week in Ethereum News
Bankless podcast
Web3 and the metaverse are two concepts with some overlap, but significant differences. Learn how Web3 and the metaverse compare.